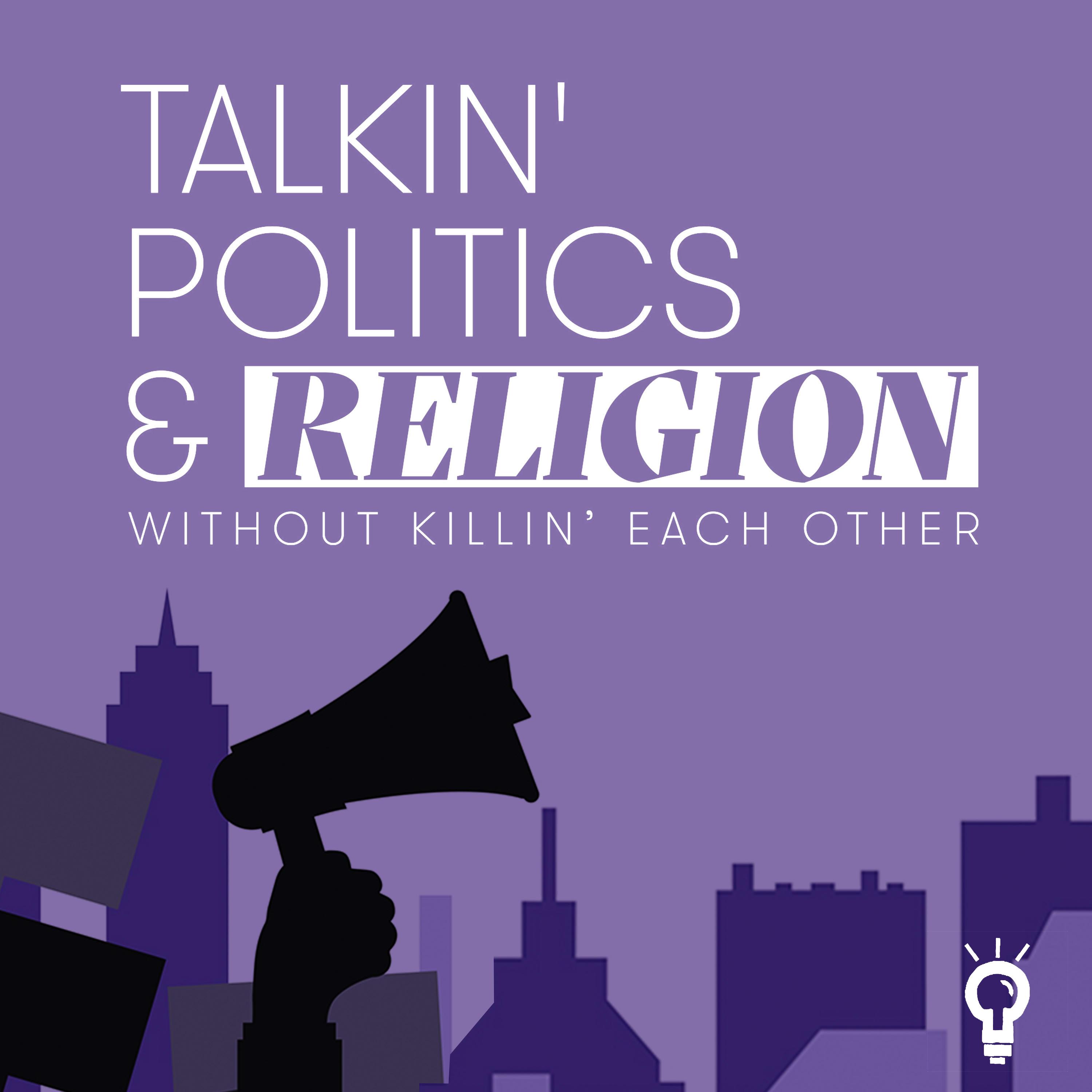 Politics and Religion. We're not supposed to talk about that, right? Wrong! We only say that nowadays because the loudest, most extreme voices have taken over the whole conversation. Well, we're taking some of that space back! If you're dying for some dialogue instead of all the yelling; if you know it's okay to have differences without having to hate each other; if you believe politics and religion are too important to let "the screamers" drown out the rest of us and would love some engaging, provocative and fun conversations about this stuff, then "Talkin' Politics & Religion Without Killin' Each Other" is for you!
Episodes
Monday Apr 17, 2023
Monday Apr 17, 2023
Over the last month in Nashville TN, the hope for better gun laws, LGBTQ rights and even democracy itself all seem to be on the line.
We're joined on this episode by Dr. Roberto Che Espinoza and Quinn Joy Bacon, both of whom are activists, organizers and theologians based in Nashville, Tennessee. There are a number of issues that are all at the forefront of what's been happening since 6 people were killed in a mass shooting at a school in the Nashville area. The "Tennessee 3" were engaging in nonviolent protest after the shooting when 2 of the #TN3 were expelled from their duly elected offices. That's when democracy itself became an issue at the center of what's happening there.
Roberto Che Espinoza, Ph.D. has been described in a myriad of ways: a scholar-activist, scholar-leader, thought-leader, teacher, public theologian, ethicist, poet of moral reason, and word artist. Dr. Espinoza is the founder of the Activist Theology Project which is now known as Our Collective Becoming, a Nashville-based collaborative project that seeks to work with the dominant culture and produces curriculum at the intersection of scholarship and activism. Dr. Espinoza was named one of 10 Faith Leaders to Watch by the Center for American Progress in 2018.  As a scholar-activist, Dr. Espinoza is committed to translating theory to action. Dr. E writes and creates academic and other valuable resources, such as in the digital realm. He is the author of Activist Theology which came out in 2019 and his latest book Body Becoming which came out last year.
Quinn Joy Bacon is a poet, organizer, neighbor, cook, and theologian. She is a transfem abolitionist currently studying at Vanderbilt Divinity School, seeking an MDiv with concentrations in Religion, Gender, and Sexuality & Prison and Carceral Studies. At Vanderbilt, they are a member of the Queer Faith and Policy Cohort through the Carpenter Program. Quinn credits her perspective to organizing and working around abolition, housing, mental health, public education, mutual aid, and their formal/informal studies. Broadly, Quinn is interested in Abolitionist Trans Liberation Theologies, and ways church resources can aid freedom struggles. Quinn is also pursuing ordination with the PCUSA.
Talkin' Politics & Religion Without Killin' Each Other is part of The Democracy Group, a network of podcasts that examines what's broken in our democracy and how we can work together to fix it. 
www.democracygroup.org/shows/talkin-politics-religion