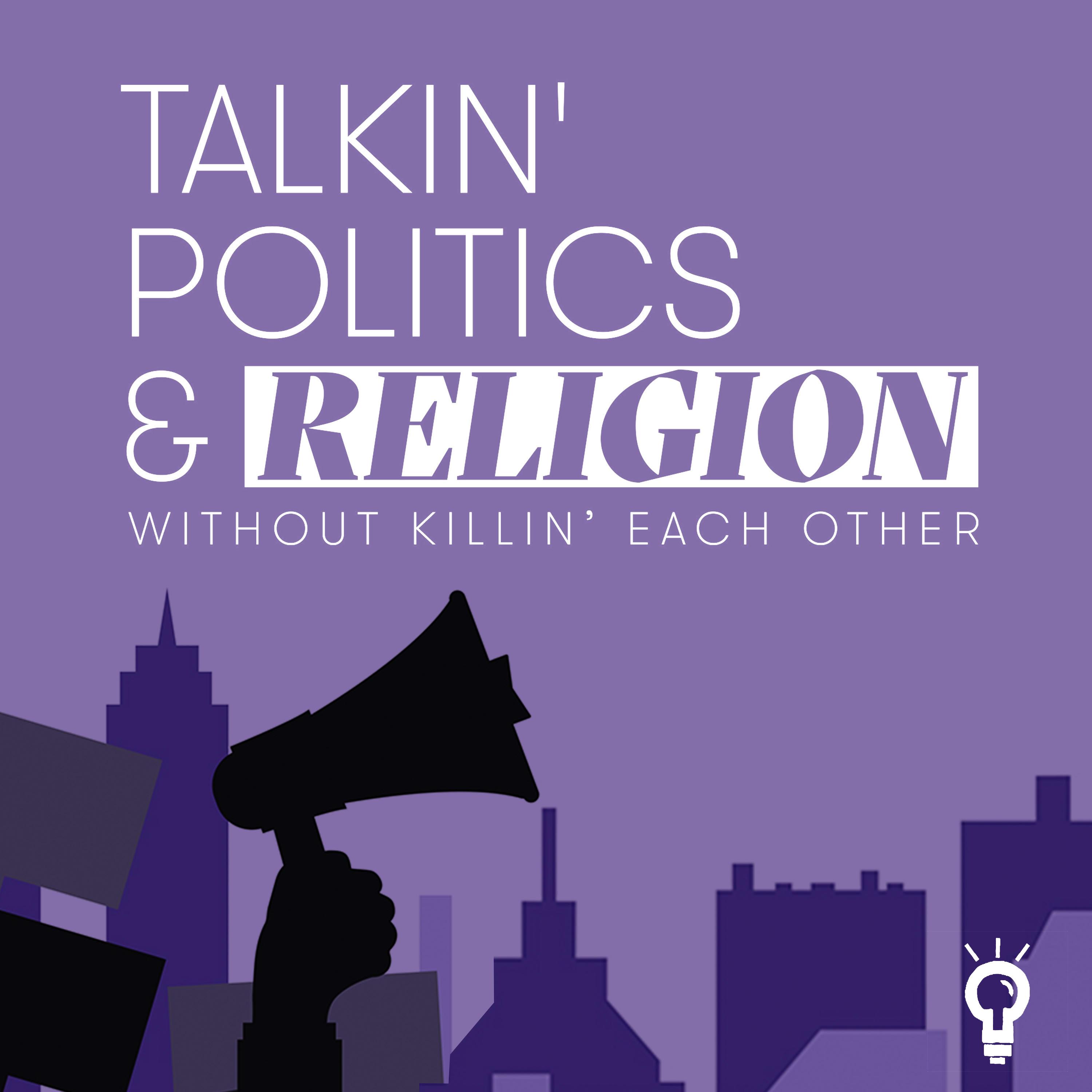 Politics and Religion. We're not supposed to talk about that, right? Wrong! We only say that nowadays because the loudest, most extreme voices have taken over the whole conversation. Well, we're taking some of that space back! If you're dying for some dialogue instead of all the yelling; if you know it's okay to have differences without having to hate each other; if you believe politics and religion are too important to let "the screamers" drown out the rest of us and would love some engaging, provocative and fun conversations about this stuff, then "Talkin' Politics & Religion Without Killin' Each Other" is for you!
Episodes
Tuesday Sep 05, 2023
Tuesday Sep 05, 2023
"Is America a divinely ordained promised land for European Christians, or is America a pluralistic democracy where all stand on equal footing before the law?" Dr. Robert P. Jones, president and founder of PRRI, grapples with this central question in his new book, The Hidden Roots of White Supremacy and the Path to a Shared American Future. As Dr. Jones says, "At its heart, this book sets out to expose the deep, hidden roots of America's current identity crisis." This landmark work examines the genocide and removal of Native Americans and White racial violence against African Americans that occurred in three distinct regions of our country: Tulsa, OK; the Mississippi Delta; and Duluth, MN. Tragically, these accounts are not unique to these areas. Similar atrocities have occurred in virtually all 50 states. And yet, this is a story of hope. The heart of the project is that "Authentic healing flows from, and true repentance is built on, the twin pillars of truth-telling and repair."
Dr. Robert P. Jones is the president and founder of Public Religion Research Institute (PRRI). Dr. Jones is also the author of the forthcoming book, The Hidden Roots of White Supremacy and the Path to a Shared American Future as well as the award-winning books White Too Long: The Legacy of White Supremacy in American Christianity and The End of White Christian America. Robby writes regularly on politics, culture, and religion for The Atlantic, TIME, Religion News Service, and other outlets. And you might recognize him from his appearances on CNN, MSNBC and NPR. He also writes weekly at robertpjones on substack, a newsletter for those dedicated to the work of truth-telling, repair, and healing from the legacy of white supremacy in American Christianity. Dr. Jones holds a Ph.D. in religion from Emory University, an M.Div. from Southwestern Baptist Theological Seminary, and an undergrad degree in computing science and mathematics from Mississippi College.
Talkin' Politics & Religion Without Killin' Each Other is part of The Democracy Group, a network of podcasts that examines what's broken in our democracy and how we can work together to fix it.
www.democracygroup.org/shows/talkin-politics-religion
www.amazon.com/Hidden-Roots-White-Supremacy-American/dp/166800951X/
And please support our friends at BEST OF THE LEFT - www.bestoftheleft.com