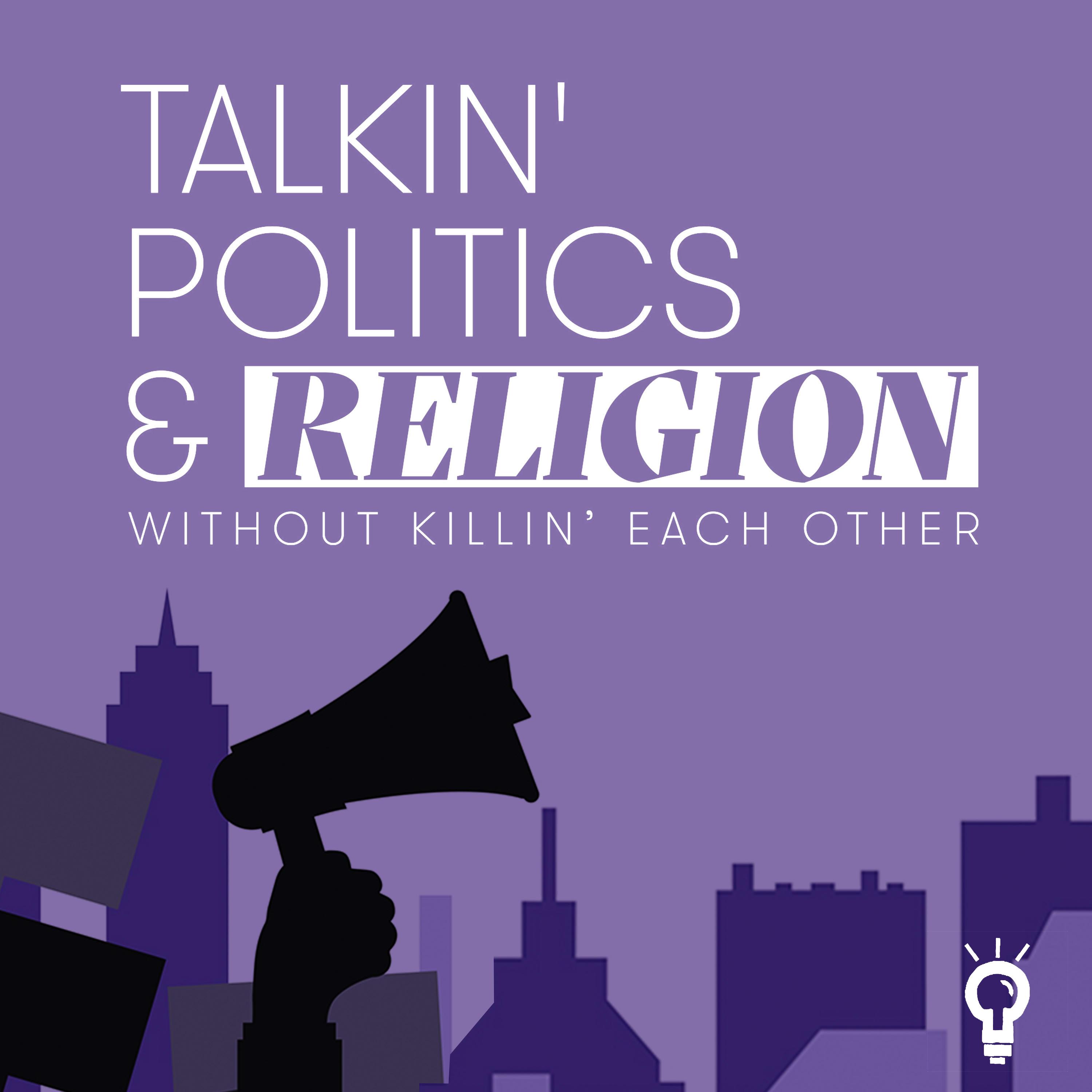 Politics and Religion. We're not supposed to talk about that, right? Wrong! We only say that nowadays because the loudest, most extreme voices have taken over the whole conversation. Well, we're taking some of that space back! If you're dying for some dialogue instead of all the yelling; if you know it's okay to have differences without having to hate each other; if you believe politics and religion are too important to let "the screamers" drown out the rest of us and would love some engaging, provocative and fun conversations about this stuff, then "Talkin' Politics & Religion Without Killin' Each Other" is for you!
Episodes
Thursday Oct 19, 2023
Thursday Oct 19, 2023
"Oseh shalom bimromav. Hu ya'aseh shalom aleinu. V'al kol Yisrael V'imru" (They who make peace in their high places, may they bring peace upon us, and upon all Israel.)
In this episode, we are joined by Dr. Naomi Yudanin and Dr. Erica Harris. We came together to discuss what's been happening in Israel since the attack by Hamas on October 7th; what's happening with our own families there; some background about our family histories including emigrating from Ukraine; how we're processing the reaction we're seeing around the world including here in the U.S.; and most importantly, how we can help.

That's where the fundraiser that Naomi is organizing, Equipment For IDF Reserves, comes in. We are raising money on behalf of Naomi's friends, Yonatan and Evelyn Seltzer, who have recently been mobilized as part of the 360,000+ reserve soldiers recruited by the IDF to fight Hamas. They are in need of basic and defensive equipment, which has been difficult to acquire and distribute quickly. Like many of their fellow reservists, they're scrambling to acquire these essentials and end up paying for it themselves. Please consider helping Yonatan, Evelyn, and other soldiers like them buy basic goods (including socks, underwear, hygiene products, warm clothing, etc.) in the next few weeks as they prepare to fight Hamas. Here is the link: spot.fund/EquipmentForIDFReserves
Additionally, Dr. Harris is in the process of providing low fee or pro-bono services to victims of the war in Israel as well as their families. Databases are currently being created that many therapists are joining to provide services to these individuals. If anyone would like further information, they may contact Dr. Harris through her website at www.ericaharrisphd.com.
Dr. Erica Harris is a licensed clinical psychologist whose areas of expertise include trauma and PTSD, anxiety, depression, relationship conflict, addiction, coping skills, and life transitions. Dr. Harris also provides crisis treatment for patients struggling with situations in the moment, in order to help them cope more adaptively.
Dr. Naomi Yudanin is a computational biologist by training who describes her vocational background as a "professional data nerd building a better healthcare experience for all." Naomi is currently the Director of Medical Data at Munich RE.
Oseh Shalom by Nurit Hirsh
Conducted by Dr. Marsha Bryan Edelman, Arranged and Accompanied on Piano by Matthew Lazar, Founder & Director, 

Zamir

 Choral Foundation
spot.fund/EquipmentForIDFReserves
And you can find Corey on all the socials @coreysnathan such as  www.threads.net/@coreysnathan.