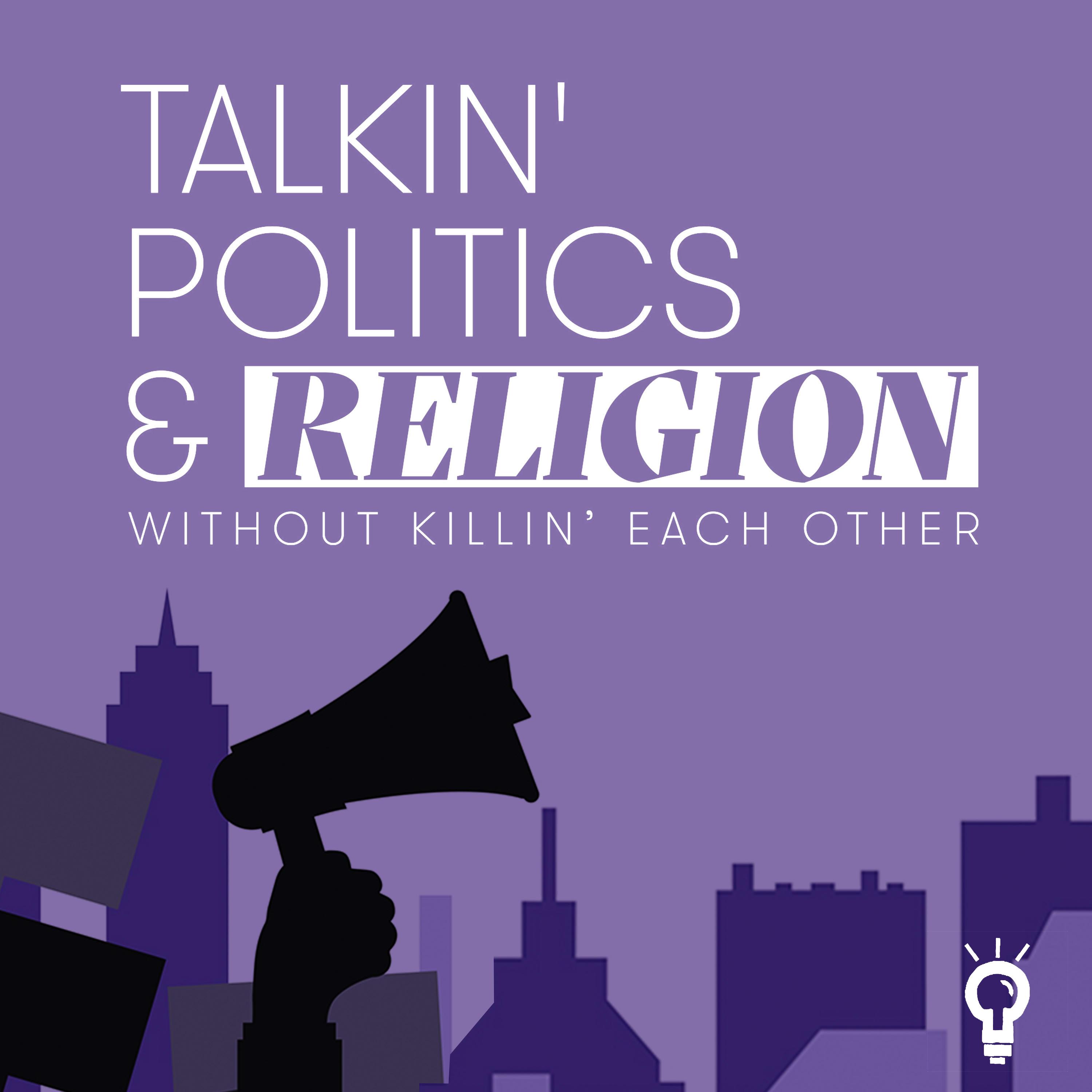 Politics and Religion. We're not supposed to talk about that, right? Wrong! We only say that nowadays because the loudest, most extreme voices have taken over the whole conversation. Well, we're taking some of that space back! If you're dying for some dialogue instead of all the yelling; if you know it's okay to have differences without having to hate each other; if you believe politics and religion are too important to let "the screamers" drown out the rest of us and would love some engaging, provocative and fun conversations about this stuff, then "Talkin' Politics & Religion Without Killin' Each Other" is for you!
Episodes
Monday Mar 13, 2023
Monday Mar 13, 2023
In this edition, we're joined by former U.S. Attorney, Co-host of the wonderful podcast #SistersInLaw and Legal Analyst for NBC News, Barbara McQuade. We, of course, discussed prominent legal cases such as Dominion Voting's defamation case against Fox News; Moore vs. Harper, the North Carolina case pertaining to voting law that tests the "independent state legislature theory"; the numerous cases against Donald Trump and which ones should concern him the most.
We also discussed what it's like being sworn in as U.S. Attorney on the very day the infamous "underwear bomber" attempted to blow up a plane in her jurisdiction; the importance of humanizing the victims as well as the accused as an attorney; how Barb was mentored by Jennifer Granholm who was a U.S. Attorney, then Governor of Michigan and is now the Secretary of Energy in the Biden Admin.; how the Conservative Legal Movement is distinct from Trumpism; the damage that was done to our institutions, specifically the Dept. of Justice, during the Trump Admin; whether Barb is optimistic or pessimistic about the future of our country; and much more!
Barbara McQuade is a law professor at the University of Michigan, where she teaches criminal law, criminal procedure and national security law.  She is also a legal analyst for NBC News and MSNBC and a co-host of the excellent podcast #SistersInLaw. From 2010 to 2017, Barbara served as the U.S Attorney for the Eastern District of Michigan. She was appointed by President Barack Obama, and was the first woman to serve in that position. Barbara also served as vice chair of the Attorney General's Advisory Committee and co-chaired the Terrorism and National Security Subcommittee. Before becoming U.S. Attorney, she was an Assistant U.S. Attorney, practiced law in Detroit from 1993 to 1998, and served as a law clerk on the U.S. District Court for the Eastern District of Michigan. Professor McQuade graduated from the University of Michigan, then from the University of Michigan Law School and was born not too far away in Detroit, Michigan.
Talkin' Politics & Religion Without Killin' Each Other is part of The Democracy Group, a network of podcasts that examines what's broken in our democracy and how we can work together to fix it. 
Be sure to check out Top of Mind with Julie Rose: www.byuradio.org/topofmind
www.politicon.com/podcast-title/sisters-in-law/
www.democracygroup.org/shows/talkin-politics-religion